What is Dogecoin (CCC:DOGE-USD)? The question has been raised more than once in 2021. And these days DOGE looks like a pile of crap. Looking forward though, is DOGE a better buy or a crypto with bearish fangs to avoid? Let's look at what's happening in the digital coin off and on the price chart, then offer a risk-adjusted determination based on those findings.
See DOGE run. Good boy! See Dogecoin take a dump on meme-trading investors. Bad token! Go on Reddit's WallStreetBets or other trading forums where amped-up and unaware investors go to swap insults, cute pics, beat their chests and plug vulnerable securities prone to muscling and you'll find DOGE alive and well in terms of tweets, retweets, shares and that sort of crud.
Dogecoin Is Largely a Joke
It's no secret much of the interest in DOGE, a crypto whose birthright was a joke several years back, has Tesla's (NASDAQ:TSLA) Elon Musk to thank. Importantly and despite the coin's notorious celebrity and obvious popularity, it also remains largely a joke to this day.
With Dogecoin, ownership isn't taking a stake in cryptocurrency's first-mover and largest digital asset. That would be Bitcoin (CCC:BTC-USD). Nor are investors getting a piece the market's "world computer," or the anonymity or transactional capacity offered by other coins.
For those opportunities, eyes, hands and wallets should be drawn to Ethereum (CCC:ETH-USD), Oxen (CCC:OXEN-USD) and Polkadot (CCC:DOT-USD).
But don't take my warning as one demanding your respect. Take it from the man himself. Last month and taking a break from his role as DOGE's resident emcee, Elon Musk took to another comedic stage on Saturday Night Live as host for an evening.
During the show's popular news segment anchors Michael Che and Colin Jost asked Elon, "What is Dogecoin?" And after repeated and failed attempts at baiting the anchors with something tangible or rather substance for DOGE's existence, the truth came out. Dogecoin is simply a hustle and vehicle to trade with the sole purpose to convert DOGE back into more U.S. dollars than invested.
Dogecoin Weekly Price Chart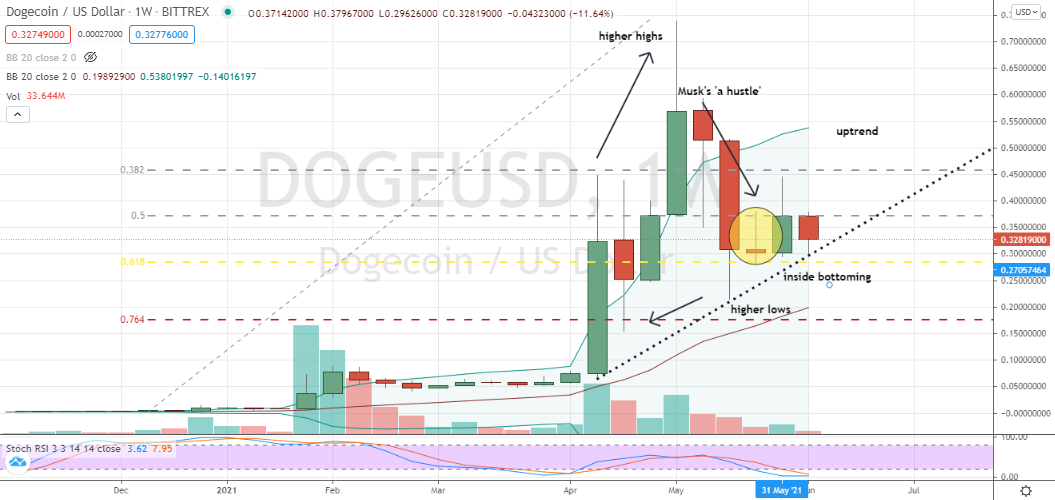 Source: Charts by TradingView
The air has been cleared and dust allowed to settle over the past month since Elon's shot over the bow of bullish DOGE investors. If you're in possession of some less-funny money which can be spared, converting those greenbacks into DOGE is shaping up. In appreciating a short-term trade with no value other than DOGE's price chart, bulls appear close to regaining the upper hand.
As the illustrated weekly of Dogecoin shows, the coin has stabilized and entered its third week of inside consolidation following Elon's influential corrective takedown. It's promising. What's more, the price action has formed a bullish uptrend with a series of higher highs and lows now in place. That's not all, either.
Another plus for DOGE investors is the most recent two-plus weeks of consolidation work is holding channel support and 62% level. All told, conditions are setting up nicely for a lower risk, higher reward trade in Dogecoin.
The Trade
In an effort to turn DOGE ownership back into a greater amount of U.S. dollars, I'd suggest buying the coin if a second rally above the high of the initial inside candlestick occurs in conjunction with a bullish crossover in stochastics. Risk at that point is about 10 cents. For that exposure and possibility of greater fools jumping in to solidify the uptrend, it is what it is.
And that's a good-looking trade skewed in bullish speculators favor.
Good DOGE!!
On the date of publication, Chris Tyler holds (either directly or indirectly) positions Grayscale Bitcoin and Ethereum Trusts (GBTC and ETHE). The opinions expressed in this article are those of the writer, subject to the InvestorPlace.com Publishing Guidelines.
Chris Tyler is a former floor-based, derivatives market maker on the American and Pacific exchanges. For additional market insights and related musings, follow Chris on Twitter @Options_CAT and StockTwits.